Unified Contact Center Suite
VizioCONNECT – Unified Contact Center & Customer Relationship Management Suite addresses complex communication requirements i.e. Inbound, Outbound and even blended Call center giving our valued customers the competitive edge. With innovative, technologically advanced & constantly evolving architecture, comprehensive functionalities & rich feature set, our contact center solutions caters to virtually any call center needs. Our call center solution offers ease of use for distributed or centralized workforce achieving customer delight and ensuring that your business stays ahead of competition. Call center solution built with VizioCONNECT contact center suite which has modular, flexible, scalable and robust solution ensuring minimum total cost of ownership at the same time maximizing profit margins, thus offering great Returns on Investment (ROI).
VizioCONNECT contact center solution addresses complex Outbound and Inbound Call Center requirements using all possible communication channels like Voice / Email / SMS / Chat / Social Media.
Established True Client–Server Architecture with four major applications.
• Server     • Agent     • Supervisor     • Quality Analyst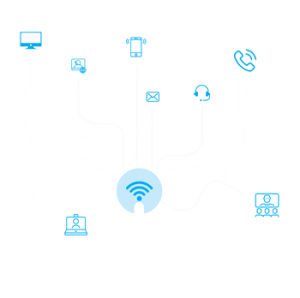 Modular, Scalable and Configurable Architecture

EDI- External Database Interface for Data Upload and Allocation

ACD (Automatic Call Distributor)– ANI/DNI Based/Skill Based/Round Robin

DNC Registry Support

Customized Campaign Management

Configurable Call Disposition

Script Management

Our Contact Center Solutions Monitoring Real Time / Supervisor Control

Screen Pop Ups – Query Based / Caller ID Based

Soft Phone Functionality for Agents

Call Statistics: Answer Time, Talk Time, Hold Time, Wrap up Time Calculation

CRM Integration or Customized CRM Application

CRM Page for Data Entry on Agent Screen

E-Mail Alerts and Notifications

Call Center Solution Monitoring Online Voice Logs for Quality Checks / Proactive Actions

Thin Client Support for Agents
Field Configurable Call Flow and Routing Algorithm

Our contact center solution has Group wise Call Transfer – Support for Multiple Groups

Agent Login–Logout and Break Functionality – Answer Time / Talk Time Calculation for each Call

Wait Queue Management

Optional Record Message (in case of long waiting duration) and Forward Recorded Message Immediately as E-Mail after Recording

Situation Based Welcome Messages for Office Time / After-office Time / Holidays

Auto reporting through E-Mail

Database Query and Voice Re-production
VizioCONNECT contact center solutions or call center solutions offers multiple dialing applications.
Preview Dialing: Numbers are uploaded in the system. Agent will have the list of numbers to be dialed. Agent will select the number to be dialed out.
Progressive Dialing: List of numbers will be uploaded in the system and system will dial the number one by one automatically and will be transferred to an idle agent.
Predictive Dialing: System dials multiple numbers against one agent based on the configuration for unknown database.
Voice Blaster (Auto Dialer): List of numbers to be dialed is uploaded in the system. In our call center solution system will dial numbers and play appropriate messages for each number by fetching data from the databases. Entire operation is automated, once the numbers are uploaded on the system and dialing is initiated; no manual intervention will be required.
Manual Dialing: Agent can enter the number in the window and dial on a click.
Supports IP / TDM ports

Automatic Voice Logging for all Incoming and Outgoing Calls

Storage on Hard Disk

ADPCM/A-Law/ -Law and Other Compression Formats

Advanced Call Retrieval System

Password Based Log in

Search Options:

Date/ Time

Channel ID

Phone Number

Call Type (Incoming, Outgoing) etc.

Retrieval/Replay Locally or Over LAN

Play Messages by a Click of a Button